Hey guys! I'm so excited to show you this post by the lovely Olivia. We decided to swap Christmas themed posts, and I wrote a helpful guide for introverts on how to survive the holiday season (here) for her blog. She writes so many awesome posts so don't hesitate to check out her blog. I've been reading it for years (definitely one of my favorite blogs).
I'm just going to stop rambling. Here's the post!
Hey, everyone! I'm so happy to be posting over here on the Brookeworm. 🙂 Today I'll be sharing tips for how to stay on top of your reading in the most wonderful time of the year- the holiday season.
Christmas brings along so much cheer, lots of jingle bells, and countless songs. But, often it also brings reading slumps with it, too.
Reading slumps are definitely the worst, and it's no fun to get into them during the holiday season. 😉 Keeping up with your reading will make sure you don't fall into a reading slump and that your holidays stay jolly!
1. Put reading before other things.
With so much going on in the holiday season, some things have to be sacrificed.
It's important to remember that there are things that shouldn't be the ones to go- spending time with your family and friends, participating in holiday traditions, and enjoying yourself shouldn't be what you sacrifice.
If reading is something that you really want to keep on top of your list you may have to put it in front of things like binge-watching Netflix or mindless Internet surfing.
This is not to say that you have to give up everything (or that you can't catch up on Stranger Things) for reading, it's just that it will be easy to stay on top of your reading if y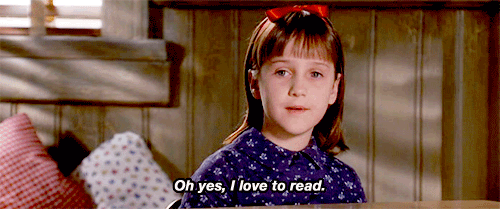 ou put it before some other things in your life.
2. Explore holiday themed reading!
Nothing is better than some seasonal recommendations. Look up winter themed books, or books with Christmas themes. It'll be so much fun to read a Christmassy book by your Christmas tree, right?
I always feel much more inspired to read when I'm reading seasonally. Hopefully it can help you stay on top of your reading!
3. Have a reading routine.
Now, when I say routine, I don't mean you have to have an exact time when you read, and you can't read at any other time, and it is crucial that you stick to your routine.
What I mean is that it's helpful to have general times when you read, and then generally try to stick to them. 🙂 For example, I try to read every night before I go to sleep. That could be your reading routine- just to make sure you keep reading every day, no matter how crazy your day gets.
4. Set goals that you can strive to reach.
Since I'm a goal-oriented person, this reason really appeals to me. At the beginning of your winter break, or whenever the holiday season (school-free) officially "starts" for you, set some goals for your reading. They could be:
-I want to read # of books
-I want to read # of hours
-I want to make reading a priority
-I want to ___*fill in your own goal*___
Then, you can look back and see your progress! Plus, when you set tangible goals, you're likely to achieve them.
5. Relax! It's the holidays.
Of course you don't want to fall into a reading slump. But at the same time, it's okay to take a breath once in a while.
Ever
ything during this season is all hustle-bustle and nownownownownow. Don't beat yourself up with you don't read as much as you wanted to, or if you give yourself a little break. Things don't have to fall apart forever just because you had other things that were more important. Just relax. 😉
I hope these tips helped! I enjoyed writing them, and I know they will end up helping me out this holiday season. Thanks for having me on your wonderful blog, Brooke! Be sure to go read Brooke's post over on my blog, too. Now, back over to Brooke. 😉
Thanks for the fabulous post, Olivia. I could defintely use these tips this winter (*cough*I procasinate so badly *cough*). Anything you'd add? Did you find any of these tips helpful? Let me know in the comments!