Anyone who has ever talked over hyped books or contemporaries with me, has probably heard my less than thrilled thoughts on John Green's books. Don't get me wrong, I don't care if you like him or his books, but they have done nothing for me. Just average, basic contemporaries in my mind- until now! I picked up Turtles All the Way Down as a true skeptic. But I was interested by the hype and reviews and had to give it a whirl. Definitely one of my better decisions, this book actually made me cry. Actual tears. Now I know you're intrigued.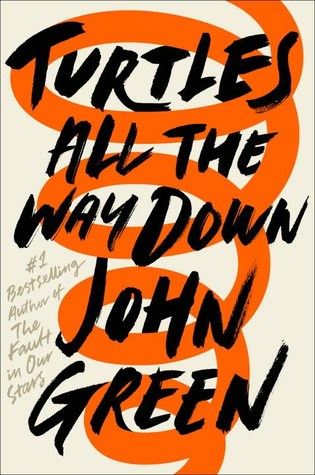 Title: Turtles All the Way Down
Author: John Green
Publication Date: October 10th 2017
Burb: 
Sixteen-year-old Aza never intended to pursue the mystery of fugitive billionaire Russell Pickett, but there's a hundred-thousand-dollar reward at stake and her Best and Most Fearless Friend, Daisy, is eager to investigate. So together, they navigate the short distance and broad divides that separate them from Russell Pickett's son, Davis.
Aza is trying. She is trying to be a good daughter, a good friend, a good student, and maybe even a good detective, while also living within the ever-tightening spiral of her own thoughts.
In his long-awaited return, John Green, the acclaimed, award-winning author of Looking for Alaska and The Fault in Our Stars, shares Aza's story with shattering, unflinching clarity in this brilliant novel of love, resilience, and the power of lifelong friendship.
Review
Let's get the first assumptions out of the way- no, it's not about turtles. Disappointing-I know. In actuality, it's about a teenage girl. I know what your thinking, "No way, Brooke, John Green wrote a book about a teenage girl. Surprise, surprise." I don't appreciate that tone, dude, especially since you didn't let me finish. It's about a very different girl. Aza is relatable, quiet, interesting, and in a total downward spiral. She's struggling with her anxiety/OCD, and her mind is totally consumed by these worries and obsessions- it was so amazing to read that perspective. It wasn't the typical," I wash my hands 1 million times and keep things organized" at all. It was real, honest, and totally brutal. Definetly a selling point for me. I love learning and this is one of the few books I've read that really shows anxiety/OCD in such a real way (Before She Ignites is also a good one).
If the interesting main character wasn't a selling point- we also got an ADoRAble cUTeY of a love interest, Davis. I shipped it from the start. They're kind of awkward and complex (I mean-Aza's OCD and Davis's guilt/issues made for an interesting mix) but really cute. Did I mention cute? because they are. It develops super slow and cautiously-totally meant for the fans of slow relationships (aka me! I have a distaste of insta love). But Davis himself was really nerdy and super sweet. Plus he had an adorable relationship with his little brother. How could he get any better??
I totally loved how all of the different plots intertwined. At first I thought it was going to mostly be about the mystery and reward, and it was in a way. But there was also the second, equally important plot of the romance, friendship, and OCD, and just general life of Aza-which really surprised me. It doesn't feel right to call either a side plot; they were both main parts of the novel but totally different. *shrug* I don't even know if I'm making any sense. Let's wrap this up, my bed is calling me.
I'm not a new John Green fan or anything-the other books still did nothing for me. But, I will definitely be slower to judge and give his next book a try. I already feel like rereading this one. Writing this review months after I read it has really gotten me interested to see if any of my thoughts changed. Overall, a pleasantly surprising book full of emotions, fluff, angst, and Star Wars fanfiction.
Rating :★★★★✩
Sorry for the unexplained hiatus these last few months, I really want to get better about posting! What have you thought of the reviews? I know two in a row might be a bit much. I'm probably going to do a tag or discussion post next-you never know! This was suppose to be discussion but it just morphed on its own into this full review. I don't know, dude. Are you interested in seeing some more confession type posts? Have any of you read this book? Any of you John Green fans? Let me know all of your thoughts (positive, negative, anything really) in the comments!